Canadian LNG infrastructure would take years to build and come online too late to help Europe, says IISD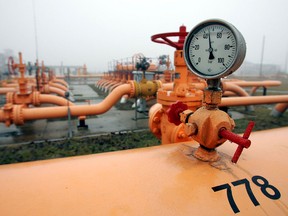 Article content
A visit to Canada by German Chancellor Olaf Scholz next week has stoked speculation about the possibility of LNG exports from the East Coast, despite a new report that suggests Canadian natural gas is not the answer to Europe's current energy woes.
Article content
Russia's war in Ukraine has resulted in a curtailment of gas supplies to Germany and Scholz has previously asked allies, including Canada, for help in finding alternatives to Russian fuel. His official visit next week with Prime Minister Justin Trudeau will include a stop in Stephenville, N.L., where they are expected to sign a hydrogen agreement. The Newfoundland port town is the planned home of a zero-emission plant where wind power will be used to produce hydrogen and ammonia for export.
The project would be the first of its kind in the country, but with hydrogen still a nascent product in Canada, much of the speculation surrounding Scholz's visit has centred on the possibility of official support being announced for one or more LNG terminals on the East Coast to supply Europe with gas. Proposed facilities include an expansion of the existing Saint John LNG regasification terminal, the Goldboro LNG project in Nova Scotia and LNG Newfoundland and Labrador.
Article content
Currently, there are no LNG export terminals operating in Canada. One terminal is under construction — the Shell-led LNG Canada project in Kitimat, B.C. — and there has been heightened pressure on Canada to deliver export capacity in Atlantic Canada amid a deepening energy crisis in Europe.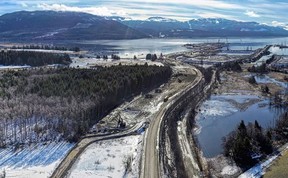 But a new report is cautioning that Canadian liquified natural gas is not the answer to Europe's short-term supply shortage. The International Institute for Sustainable Development (IISD) analysis suggests that Canadian LNG infrastructure would take years to build and come online "too late" to address Europe's needs. The report also warned that proceeding with projects could result in stranded assets as energy efficiency and fuel-switching over the next several years could significantly reduce demand for LNG in the EU.
Article content
Still, as Canadian oil and gas companies emerge from a lucrative quarter there have been continued calls from within the sector to expand export capacity.
Soaring natural gas prices helped Tourmaline Oil Corp. to generate record cash flow in the second quarter and net earnings of $823 million — up 96 per cent from a year earlier. Canadian Natural Resources Limited posted a $3.5-billion profit in Q2, helped in part by record quarterly natural gas production and buoyed by a 51 per cent increase in realized natural gas pricing compared to the previous quarter.
Another bullish signal on Canadian LNG export came in July with Enbridge Inc.'s acquisition of a 30-per-cent stake in the $5-billion Woodfibre LNG project planned for Canada's west coast — the pipeline giant's first investment in a liquified natural gas terminal.
Article content
But Winnipeg-based think tank IISD warns that the high gas prices may be temporary — driven by a rebounding economy after COVID-19 lockdowns and colder-than-average temperatures that increased worldwide demand for LNG — and exacerbated by recent supply-side capacity outages and upstream underperformance. IISD pointed out that gas prices in Europe and the U.S. have historically been much lower than in the last two years.
"Europe is accelerating its plans to reduce gas use by ramping up energy efficiency and the use of renewable sources," IISD said. "This will result in a fundamental mismatch with Canadian supply opportunities. Canada cannot ramp up supply before 2025, while Europe's energy needs will largely be resolved by that time."
Article content
The significant cost of constructing LNG export facilities has also been an impediment in the past to projects proceeding.
Previously, proponents of LNG in Atlantic Canada have lobbied for federal and provincial assistance. However, recent public comments from Natural Resources Minister Jonathan Wilkinson suggest that any of the proposed East Coast LNG projects would have to proceed without federal financing.
IISD senior policy adviser Nichole Dusyk, one of the authors of the report, said taxpayer money shouldn't be used to support LNG export projects. "The danger is Canadian taxpayers end up subsidizing fossil fuel infrastructure at a time when we need to be transitioning away from fossil fuel infrastructure," said Dusyk in an interview.
Article content
Reliance on private funding ensures that proponents will have to seek long-term supply deals with buyers in order for LNG projects to move forward.
On Canada's West Coast, Pacific Energy's Woodfibre LNG project has secured long-term off-take agreements with the trading arm of BP Plc., representing some 70 per cent of the terminal's eventual annual throughput for 15 years.
Long-term LNG contracts were previously unpopular in Europe when gas was cheap, but declining investment in gas production and tight global supply has changed the calculus for buyers there who are facing crippling prices and fears about shortages ahead of the winter.
Wilkinson told the Globe and Mail in July that the federal government was facilitating discussions between Canadian companies and prospective German buyers of LNG.
With additional reporting from the Canadian Press
• Email: mpotkins@postmedia.com | Twitter: mpotkins