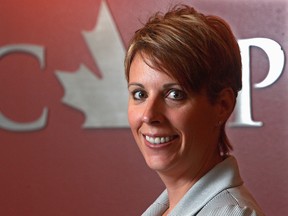 Article content
European natural gas prices hit record levels this week and countries on the continent are bracing to cut gas use during the fall and winter.
Article content
As the invasion of Ukraine by Russia continues, that country's energy giant Gazprom indicated Friday that product won't flow through the Nord Stream 1 pipeline for three days later this month due to maintenance, pushing prices even higher.
This is the tumultuous backdrop in place as German Chancellor Olaf Scholz comes to Canada and sits down with Prime Minister Justin Trudeau next week. It's expected the issue of energy security will be high on the menu for discussions.
Is Canada willing to put its entire buffet of energy options on the table, including not just hydrogen — an agreement on this front will be signed — but also natural gas and the development of an LNG industry needed to export it abroad?
This is an important question.
Article content
A new report by the Public Policy Forum makes the compelling case that it's high time this country stops dithering over LNG and instead embrace the fact Canada has ample supplies of low-cost gas that could dislodge higher-emitting sources of energy in the world.
"Canadians have important decisions to make. Do we develop our gas and make it available to our world partners," the report asks.
"At the heart of the matter lies a surprising paradox: while developing Canadian gas would put upward pressure on our own national climate targets, it could also contribute to lowering global emissions.
"It comes down to what is essentially a moral choice about being a good neighbour to our friends abroad while protecting our energy independence at home."
Article content
There are sound economic reasons why it makes sense for Canada to export super-chilled liquefied natural gas to the world.
As demand for energy and the push for electrification increases, gas will be needed — and Western Canada contains huge reserves that can be produced at a low cost.
Doing so would generate jobs and attract investment, create ownership opportunities for Indigenous communities and bolster government revenues.
Canada can supply lower-carbon gas that would dislocate coal use in Asia and Europe, although it will take many years to build the necessary infrastructure.
If the country develops a national industry with export facilities on both the east and west coasts, it could eventually ship LNG to customers in Asia and Europe.
Article content
"The world needs more gas and Canada has the cleanest methane in the world and so the most logical way forward is for Canada to grow its gas production, ship it via LNG to Asia," Mike Rose, CEO of Tourmaline Oil Corp., the country's largest natural gas producer, said in a recent interview.
It's an argument the industry and provincial leaders have been making for years, although it hasn't resonated with federal decision-makers, who seem uneasy with the idea.
"Before the invasion of Ukraine, Canada stood alone among gas-producing nations in displaying ambivalence about developing its resource for export," the report noted.
Canada has more than 200 years of reserves at current output levels and is the world's fifth-largest natural gas producer. Despite having 18 separate LNG projects proposed for the Pacific and Atlantic Coasts last decade, only one major project and a smaller development are moving forward today.
Article content
Opponents argue new projects will lock in long-term investment in fossil fuel infrastructure (such as pipelines needed to move gas to export facilities) and exacerbate the climate crisis.
A report by the International Institute for Sustainable Development (IISD) said Canada has no LNG export facilities ready to help Europe and it would take three years or longer for new projects to start operating.
It pointed out that European countries are already accelerating plans to develop more renewable projects.
"There is going to be a market for natural gas but it's going to be shrinking," added Keith Stewart of Greenpeace Canada.
"We're seeing it with the Germans coming to town and saying, 'We really want your green hydrogen and ammonia, but we're less interested in the LNG.'"
Article content
In Canada, LNG expert Geoffrey Cann believes it will take at least seven years to construct a large export project and even longer to get through environmental and regulatory reviews.
However, countries in Asia will need more gas for decades to come as they shift away from burning coal for power generation.
"This is a marathon," said Cann, a principal at MadCann Alberta. "The demand looks to be very, very strong, but the opposition is equally robust."
It's worth pointing out that Canada, one of the world's largest oil and gas producers, has already adopted a national price on carbon, committed to reaching net-zero emissions, and pledged to reduce industry methane emissions by 75 per cent by 2030.
Officials in federal Natural Resources Minister Jonathan Wilkinson's office said Friday that meetings with German leaders next week will include discussions about hydrogen and critical minerals. The topic of LNG will not be ignored, but won't be the centre of discussions.
Article content
"On the East Coast, the big opportunity is hydrogen," Wilkinson told Reuters.
"The economics of West Coast LNG are almost certainly likely to be better than East Coast LNG, just given how far the transmission requirements are."
Any companies eyeing decades-long investments in LNG projects will need to know there's a future for gas production in Canada — but also have a clear sense that governments will support such ventures.
Janet Annesley, who contributed to the Public Policy Forum report and was chief of staff to former Liberal resources minister Jim Carr, pointed out Canada has climate policies in place and the industry is committed to lowering emissions.
However, Canada needs to be clear about how it sees the opportunity to export natural gas and how the country can produce the cleanest LNG in the world, said Annesley, chief sustainability officer at Kiwetinohk Energy Corp.
"We don't have a clear vision," she said.
"We have to realize we can walk and chew gum at the same time. We can be a producer of natural gas and a leader in addressing climate change. We can be (both) those things at once."
Chris Varcoe is a Calgary Herald columnist.