The world's first LNG-fueled Panamax-class coal carrier, named Shoyo, has kick-started commercial operations after being bunkered with its first fuel at the beginning of October.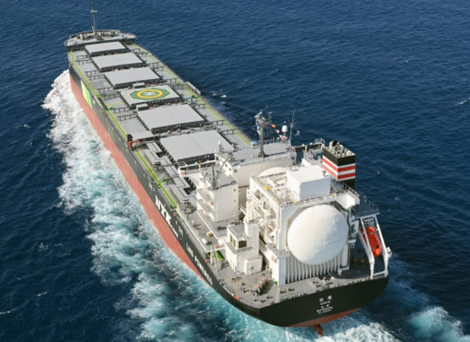 The vessel was built by Japanese shipbuilder Oshima Shipyard for compatriot Nippon Yusen Kabushiki Kaisha (NYK) and Kyushu Electric Power Co. Oshima delivered the coal carrier on October 2.
With NYK at the helm of operations, the primary mission of the Shoyo is the transportation of coal from overseas locations to Kyuden's coal-fired power plants.
Shoyo received its LNG fuel supply at the port of Tobata, Fukuoka Prefecture on October 12.
Bunkering was carried out via shore-to-ship, which supplies fuel directly from the handling facility on shore to the vessel. This was the first shore-to-ship bunkering for an oceangoing LNG-fueled vessel in Japan.
The ship is designed to be compatible with both shore-to-ship and ship-to-ship bunkering.
NYK said that from March 2024, a newly built LNG-fueled bunkering vessel based in the Setouchi and Kyushu area could deliver LNG fuel through ship-to-ship bunkering.